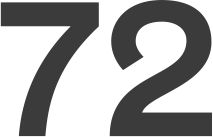 72 Films is an independent production company founded by David Glover and Mark Raphael.
We aim to make programmes that inspire, entertain, and make a positive contribution to the cultural landscape.
We have won major commissions with the BBC, National Geographic, Channel 4, Sky, Paramount, Netflix, Apple and Amazon.
We have been voted the Best Independent Television Production Company in the UK in an industry poll two years running.
AWARDS
EMMY Awards
Winner
9/11: ONE DAY IN AMERICA
Outstanding Historical Documentary (2022)
Outstanding Promotional Announcement 2022)
RESPONSIBLE CHILD
Best Performance by an Actor (2020)
Outstanding TV Movie/Mini-Series (2020)
INSIDE NORTH KOREA'S DYNASTY
Outstanding Graphic Design & Art Direction (2019)
Nominated
9/11: ONE DAY IN AMERICA
Outstanding Music Composition (2022)
BAFTA Awards
Winner
JIMMY SAVILE: A BRITISH HORROR STORY
Best Original Music, Factual (2023)
Nominated
JIMMY SAVILE: A BRITISH HORROR STORY
Best Editing, Factual (2023)
THE ELON MUSK SHOW
Original Music, Factual (2023)
RESPONSIBLE CHILD
BAFTA TV Craft – Breakthrough Talent (2020)
Single Drama (2020)
CRIME AND PUNISHMENT
Best Factual Series (2020 & 2021)
THE RISE OF THE MURDOCH DYNASTY
Best Specialist Factual
MIGHTY REDCAR
Best Photography, Factual (2019)
ELIZABETH I'S SECRET AGENTS
TV Awards – Specialist Factual (2018)
9/11: ONE DAY IN AMERICA
Best Factual Series (2022)
RTS Awards
Winner
9/11: ONE DAY IN AMERICA
Best Documentary Series (2022)
A DANGEROUS DYNASTY: HOUSE OF ASSAD
Programme Award Winner – History (2019)
MIGHTY REDCAR
North East & The Border Awards – Best Factual Production (2019)
ELIZABETH I'S SECRET AGENTS
Programme Award Winner, History (2018)
Nominated
RISE OF THE NAZIS
Craft and Design Awards – Picture Enhancement
CRIME AND PUNISHMENT
Best Documentary Series (2020 & 2021)
BROADCAST Awards
Winner
JIMMY SAVILE: A BRITISH HORROR STORY
Best Documentary Series (2023)
9/11: ONE DAY IN AMERICA
Best Documentary Series (2022)
Nominated
THE RISE OF THE MURDOCH DYNASTY
Best Specialist Factual
MIGHTY REDCAR
Best Original Programme (2019)
Other Awards
Winner
72 Films
Televisual Bulldog Awards – Best Indie (2023)
Televisual Bulldog Awards – Best Indie (2022)
Televisual Bulldog Awards – Best Indie (2021)
9/11: ONE DAY IN AMERICA
Televisual Bulldog Awards – Best Documentary Series (2022)
JIMMY SAVILE: A BRITISH HORROR STORY
FE Cut Above awards – Best Edited Series: Documentary or Non-Fiction Programme
THE RISE OF THE MURDOCH DYNASTY
Broadcasting Press Guild – Best Mini-Series (2021)
A DANGEROUS DYNASTY: HOUSE OF ASSAD
FOCAL – International Awards – Footage Researcher of the Year – Peter Scott (2019)
MIGHTY REDCAR
RTS Craft and Design Awards – Photography – Documentary/Factual & Non-Drama (2019)
GTC – Award for Excellence (2019)
Nominated
JIMMY SAVILE: A BRITISH HORROR STORY
ROSE D'OR – Documentary Award (2022)
CRIME AND PUNISHMENT
Television Bulldog Awards – Best Documentary series (2021)
THE RISE OF THE MURDOCH DYNASTY
FOCAL International Awards – Best Use of Footage in a Factual or Natural World Production (2021)
ALL OR NOTHING: TOTTENHAM HOTSPUR
Sport Emmy – Outstanding Serialized Sports Documentary (2021)
Sports Broadcast Awards – Best Post Production For Sports
9/11: ONE DAY IN AMERICA
The Buzzies Congress Awards for Excellence – Best History Long Format (2021)
INSIDE NORTH KOREA'S DYNASTY
Realscreen Award (2020)
Responsible Child
National Film Awards, UK – Best Newcomer (2020)
A DANGEROUS DYNASTY: HOUSE OF ASSAD
The Grierson Awards – Best Historical Documentary (2019)
TRUMP: AN AMERICAN DREAM
Grierson Awards – Best Historical Documentary (2018)
Broadcasting Press Guild – Best Documentary Series (2018)